Banner printing can be a powerful component of any marketing strategy to promote your brand's products and services. Despite the rise of technology, print is still a very effective marketing tool as it can connect with your audience in a completely different way.
There are many benefits to utilising banner printing for your brand marketing, including:
Instore Promotions
As the Summer sales prepare to launch, arranging banner printing to promote your offers instore can persuade shoppers passing by to visit your store.
Positioning promotional banners at the entrance of your store with enticing images, buzz words and colours can help you connect with the customer and draw them in. Being at the entrance of your shop also guarantees that your banner will be the first thing shoppers see, keeping it fresh in their mind as they look around the store.
Entrance banners may also make the difference between a customer choosing you over a nearby competitor and also getting the attention of those driving past to remind them to visit on their way back.
Event Marketing
As you enter an exhibition you are instantly swamped with a storm of businesses, all trying to appeal to you as a customer. It can be confusing knowing who to go to and what they are all trying to offer.
However, if you find a way to make your business stand out from fellow exhibitors, then this could be your gateway to more customers. Eye catching colours and typography with professional banner printing to promote offers, career opportunities or simple phrases to challenge attendee's thinking to encourage them to come over for a chat, banners can be one of the most essential parts of any exhibition stand.
Brand Awareness
Promote your brand away from your business with general advertising around your local city and points of interest.
The benefit of working with a professional banner printing company is that you can design your banners to cater to your business and target audience. This goes for the colours, copy, images and everything else to ensure your business is being portrayed in the way you need it to be and is engaging the right audience.
Having your bespoke branded banners hung in popular places of interest among your customers can attract a new wave of interest that you may not be able to achieve online. For example, for customers who are not active on social media or don't sit down to watch the TV on a daily basis.
Here at Russell Printers we provide high quality banner printing to suit all of your print marketing needs. The benefit of banner printing is that it can expose your business to a lot of people within a short space of time, at a fraction of the price compared to other forms of modern marketing.
If your business is looking to increase brand awareness, attract new customers and generate interest for your products and services, printed banners may be the solution you need.
For more information on our banner printing service please get in touch on 0121 236 2784.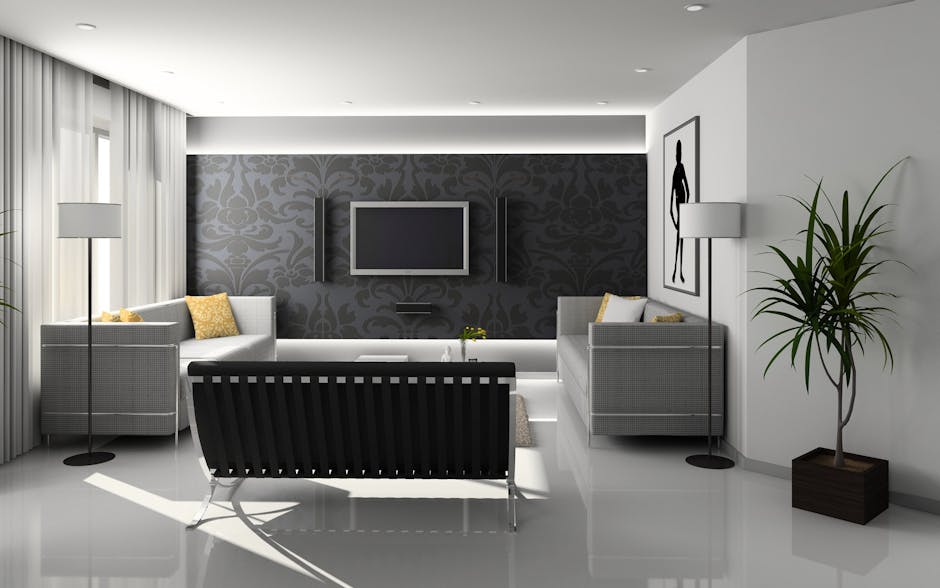 Decorating a house is easy, but decorating a home is a different story. With a home it's all about adding those personal touches that make a space yours. Finding a professional wallpaper printing company can help you inject more personality into your home with a custom design, created by you.
Not only can custom wallpaper help turn a house into a home, it can also create an interesting focal point in any room and the uniqueness of the design can be a great conversation starter when you have visitors round.
There are lots of uses for custom wallpaper, particularly as feature walls to highlight your homes best features and add something fun to lifeless rooms.
But How Do You Choose a Feature Wall?
There are many ways you could go with a feature wall, which is why we have listed our top five points to consider before you begin designing.
What theme are you following?
Look at the room and pick out elements of your décor that you want to incorporate into your feature wall. You want it to follow a theme, so consider colours and patterns. For example, a room with lots of accessories may need a feature wall with a lot of solid colour and small details. Whereas with a minimalistic room you may want a wall that's loud and does all the talking.
Is there anything personal you want to incorporate?
Especially when you're a family with children, a lot of people like to incorporate sentimental quotes or imagery to reflect their family values and to remind them of happy times in their lives.
What size will it be?
Not only will you need to know the sizing requirements, so the designer can make it to size, you also need to consider how it will affect the rest of the room.
For example, brighter colours can lighten up and room and make it appear larger. Stripes can also accentuate wall height and length if you're looking for that effect. Whereas darker colours and small, cluttered prints combined can make a room feel darker and smaller.
What message does it need to promote?
But custom wallpapers aren't just for homes, as they can also be used in the workplace. Custom wallpapers would work well in your waiting area to set the first impression of your brand. Therefore, you need to consider what you would like your wallpaper to promote, including brand colours, company slogans and imagery.
Choosing the Right Wall to Customise
Because custom wallpaper can add so much to a room, you want to get the placement right. Solid walls with no doors or windows are a great place to start. Then, consider if you already have any focal points in the room, such as a bed or fire place, that you can highlight with a feature wall. And try not to hang too much onto the wall after adding your custom wallpaper, as you want that to be the main focus, not hidden behind photo frames.
Here at Russel Printers we provide high quality wallpaper printing services, which can be made with your choice of size, design and finish. For more information on our wallpaper printing services visit our website or call today on 0121 236 2784
Marketing efforts are most successful when both print and digital marketing activities are used to complement each other. When guiding customers to your mobile app or website, printed marketing materials can work great. Walking past a poster, picking up a flyer or receiving a business card are all effective ways of nudging them towards your website to make purchases.
But unfortunately, a lot of businesses won't merge online and offline marketing simply because they don't know how. If this is your company's situation then look below for inspiration on how you can easily incorporate print into your digital marketing strategy:
Digital Opt-Ins for Direct Mailings
When involving both online and offline marketing activities you need them to support and coincide each other for the best results.
There's something about glossy catalogues that everybody takes pleasure in flicking through. The glossy texture, the bright photographs and the organised layout makes it easy to sit back and relax with. You can use this to your advantage to drive other digital campaigns. For example, including a QR code which directs to your app, promoting a social media competition or advertising online discount codes.
This is great because not only are you encouraging customers to opt-in for your service, but you're pushing the customer along the buyer's journey to convert.
Transitioning from Flyers to Websites
At business events and exhibitions, prepare yourself with printed marketing material that will persuade your offline customers to visit your business online. As people walk by your stall, provide them with something captivating, completed with an encouraging CTA or incentive to participate in a digital campaign.
Leaflets are great for detailing information about your business and telling readers where to go to find out more. For example, you could provide leaflets on the variety of services your business provides and then direct them to your website for portfolio work, pricing, etc.
Posters are perfect for promoting exciting deals and competitions that people walking past can notice instantly. Make them vibrant and straight to the point so potential customers will remember to check out promotions after the event.
QR Codes and Personalised URLs for Tracking
Adding QR codes and personalised URLs to your printed materials is a great way to monitor customer activity, to see who you're attracting and where from. It may also give you insight into why they chose to scan your QR code if it was found on a leaflet covering a specific service of yours.
Overall, print still holds an important place in the marketing mix. According to research, 79% of consumers will immediately act on direct mail, whereas only 45% will with email. Targeted direct mail also generates a 4.4% response rate compared to email which only generates a 0.12% response rate. This shows that print marketing is still effective and often generates higher results than digital. But when you combine print and digital together your campaigns will become a lot more advance and produce greater results.
For more inspiration on how you can incorporate print materials into your digital marketing strategy visit our website for our full range of services.
2018 has been a busy year for us here at Russell Printers, filled with exciting projects and new additions to our offices.
Welcoming Karen
The first addition to our office was our brand-new team member, Karen. Karen will be working with us as a Sales Representative to promote our services and introduce new clients. As a working professional, Karen is very driven and goal-orientated and comes with a wealth of experience in printing and sales, so we know she will be full of new ideas and bring lots of benefits to the company.
Since leaving school, Karen has worked for the printing industry in various roles, from print management, facilities management and account management. She has also had a lot of hands on experience with the production side of printing, before venturing into sales.
Twenty-four years later Karen continues to strive. Over the years she has seen the industry change in many ways but continues to offer customers innovative ideas on how they can save money without compromising quality, making her the perfect match for Russell Printers.
Taking Embroidery to the Next Level
Our second addition is our brand-new embroidery machine. The Melco EMT16 Modular Embroidery Machine is known for being the most powerful and productive embroidery machine sold by Melco and proven to boost production by 20% compared to older models.
Competitive advancements, such as 1,500 stitches per minute, laser light positioning, fully automatic thread tensioning and a sewing field of 540 x 440cm means that we can provide a speedy turnaround and professional workwear for your employees.
Embroidery can add a personal touch to many materials, especially clothing. For example, having your logo printed on t-shirts for corporate workwear or even school uniforms, can work as a great advertisement tool that your employees or students can wear with pride.
For further details on our embroidery services, call a member of the team on 0121 236 2784
Although we are taught not to judge a book by its cover, it's not always that easy. It is second nature to make an initial judgement when seeing something for the first time. According to Missouri University of Science and Technology, it takes online users two-tenths of a second to judge your brand upon entering your website1. Therefore, if you want your business to be perceived positively upon first impression you need to pay close attention to how you're branding yourself.
A great way to promote your brand is through artwork, more specifically posters. In your younger years you may have plastered your bedroom walls with posters of your favourite bands and style icons. This is because you loved what they represented and what they meant to you.
Designing a poster for your business can bring the same level of value, when you're working with the right printer team. There are three aspects to every piece of great artwork: design, message and quality. Consider what message you want to convey with your poster and what you want it to represent.
Is your branding designed to be: Creative? Humorous? Feminine? Masculine? Direct? Informative?
Create a plan with all the keywords you like to associate with your brand. Then expand on this with the colours, imagery and style of language your research finds appeals best to your target audience. With art, everything comes with a connotation, so you need to get it right.
Once the design is polished, here at Russell Printers we are ready to turn your designs into reality. With high quality printing, we can help you promote your brand in the best possible light, with the latest equipment and a range of expertise. But it's not just your classic A1 posters we have to offer.
If you company is big on promoting at exhibitions we also have professional roller banners to stand by your side as you greet potential clients. Bespoke wallpapers are also an option if you're looking to promote in-house too. Visit our website and explore our range of printing services available, to find everything your business needs.
Sources
1 – entrepreneur.com/article/223150
Business cards are an essential part of a companies' marketing plan, and despite the world's move to digital, they are one of the materials that don't show any sign of going out of fashion anytime soon. And that's for good reason – they allow potential clients and contacts to feel connected with your brand, give them something tangible to take away and can make sure you're in that person's contact list.
At Russell Printers, we print hundreds of business cards every week, so have seen our fair share of designs – good, bad and ugly. Here, we investigate the top three elements you need to think about when it comes to your business cards:
Include the essentials
Your business card should include essential information such as your name, position, telephone number and email address, as well as your logo. Whether you include your business' street address depends on whether you have a bricks and mortar shop or premises that is integral to doing business.
Have a think about what you want to be called – founder? CEO? MD? Getting these details straightened out in advance can save you having your cards redesigned and reprinted later down the line.
Adhere to best practice
At first, it may seem strange to carry around a packet of business cards, but it's wise to get into the habit. You never know who you're going to meet and where, so being prepared is the best course of action.
Rather than simply trying to shove your business card into someone's hand straight away, try and take an interest in their business first and give it to them when an appropriate moment arises. Don't forget to ask for their business card too!
Embrace different cultures
Here in the UK, giving out a business card is a straightforward part of networking that doesn't come with much ceremony. However, in other parts of the world there are different ways of approaching the exchanging of cards and it's always good to know what to expect. We always recommend doing your research about business card etiquette in the country you are visiting, but have rounded up some here for you:
The Middle East – Typically, business cards are exchanged at the beginning of a meeting and should be looked at respectfully before being put away. It's important to note that they should always be taken with the right hand rather than the left, which is seen to be for 'unclean acts'.
China – Again, business cards are typically exchanged at the beginning of a meeting. Dual-sided Chinese business cards should be printed in English on one side and Chinese on the other and should always be exchanged with two hands.
Japan – Giving and receiving business cards in Japan is seen to be quite a ceremonial experience, so investing in high quality cards and case is essential. Status is important in Japan, so ensure you've included your title in a prominent position. Finally, always accept a business card with both hands.
USA – Like the UK, business card etiquette in America is fairly relaxed and doesn't have much ceremony attached to it. However, always try and be respectful when giving one out and ask if the recipient has one to share too.
At Russell Printers, we offer a wide range of high-quality printing services at a reasonable price, including business cards. To find out more or to book in your job, call us today on 0121 236 2784, or email info@russellprinters.co.uk.
Here at Russell Printers we offer printing services for a vast range of products, including some you may not have thought of!
A – If you produce Annual Reports for your business, use high-quality printing.
B – Top quality Business Cards to share with clients and potential customers.
C – Catalogues that list and promote your products and encourage sales.
D – Handy Desk Calendars that make a perfect gift for clients at New Year.
E – Specially printed Envelopes make sending mail quick and more efficient.
F – Promotional Flyers are a perfect way to raise awareness about offers and events.
G – Gift Vouchers are a popular product sold in store or online.
H – Professionally printed Hymn Sheets for religious services and events.
I – Invitations for any kind of event, big or small.
J – Personalised Jotters for taking down key notes and observations.
K – Key Fob Inserts to make sure you know which key is which!
L – Leaflets remain a great way of advertising and are easily distributed via hand or post.
M – High quality Magazine production requires large scale professional printing.
N – Newsletters can be a useful tool in social and professional environments.
O – Order Forms play a key role in helping clients to buy your products.
P – Price Lists are a handy way of letting customers know how much your products cost.
Q – Questionnaires are commonly used for market research at busy events.
R – If you don't have Raffle Tickets, how will anybody win!?
S – Most organisations are required to produce financial statements.
T – Printed Tickets offer a great way of managing admission to big events.
U – Uniforms can be easily styled to reflect your company branding.
V – Vouchers are an easy and efficient way to promote future sales.
W – Wedding Stationery is vital to making your big day a success!
X, Y, Z?
Watch this space in 2018!
How we can help
If you would like to find out more about the wide range of printed products we offer here at Russell Printers, please contact our friendly customer service team today on 0121 236 2784.
As 2017 draws to a close and we look forward to the festive period ahead, we'd like to thank all of our customers and friends for their support over the last 12 months.  It has been a busy year for Russell Printers, with the move to bigger premises in Hockley and welcoming a new director just a few of our notable highlights.
Our move to Mott Street Industrial Estate has enabled us to respond to increased demand for high-quality t-shirt printing and thanks to the installation of our new OKI transfer printer, we can now print onto any material in full colour.
For those of you who have not had chance to visit us at our new building yet, here are a few 'behind the scenes' shots of where the action takes place:
Getting Nostalgic
As any company with a history as rich as ours would agree, there is nothing like a trip down memory lane, particularly at this time of year when we are looking back on another great year here at Russells.  The eagle eyed amongst you may be able to pick out Ian and Neil from the photo below:
And if you visit our new premises in Hockley, you can literally go back in time with our feature history wall, showing the Russells story from past to present:
What does the future hold for Russell Printers?
Having provided printing in Birmingham since 1905 we've witnessed many changes in the industry and happily we've been able to respond to these to continually offer a service that is up to date with what you and your business need.
As we look forward to 2018, there is a lot to get excited about as we continue to offer everything from traditional business stationery to corporate workwear and dye sublimation to print your designs and branding onto a wide range of materials.
Whatever print your business needs just give our team a call on 0121 236 2784 and we'll be happy to help.
With the festive season on the horizon, many of us will be thinking about our Christmas lists, cooking schedules and shopping tasks. And while many businesses close for the celebratory season, there's no reason why you can't keep your brand front of mind during the break. How, we hear you ask?
Well, Christmas actually offers the chance for you kill two birds with one stone. Not only can you send a festive card or gift to your all-important clients, you can subtly brand whatever you send. At Russell Printers, we can put together a whole range of Christmas print, including:
Christmas cards
Sending a corporate Christmas card is a quick, easy and cost-effective way of letting your clients and customers know you care.  We are dab hands at branding Christmas cards, and if you're not sure what you want we can give you a long list of ideas.
Gift vouchers
Although you might prefer to give a gift over anything else, sometimes it's just not possible to know what people want. That's why investing in branded gift vouchers can ensure you offer your customers an easy Christmas solution, while encouraging reinvestment into your business.
Gift tags
We've all been there – in the midst of present wrapping when we realise we've run out of gift tags. That's why creating branded gift tags and providing them to your clients can help them out in a time of need while also showing off your branding.
Desk calendars
With the new year not long after Christmas, giving a personalised or branded desk calendar is a fantastic way of making your brand a yearly fixture on a client's desk.
Wine labels
Wine can be a great corporate gift, but why not personalise a bottle and have your branding featured on the label? With Christmas parties in full flow, you'll never know who sees it!
At Russell Printers, we offer a wide range of high-quality printing services at a reasonable price, festive or otherwise. To find out more or to book in your Christmas print job, call us today on 0121 236 2784, or email info@russellprinters.co.uk.
On the 9th October it will be World Post Day, which was designed to mark the anniversary of the Universal Postal Union's creation in 1874 and to celebrate its contribution to social and economic development across the globe.
As printers, there are many things that we create which end up in the postal system, so we thought it'd be a fitting idea to list a handful of printed items that you can pop in the post.
Leaflets and flyers
Whether it's A5 flyer printing or A4 folded leaflets and flyers, these forms of marketing aren't going anywhere anytime soon. While email marketing might have dominated the scene for a while, research shows that good old printed collateral still has its place and can even be more effective. After all, nothing quite beats having something tangible to feel and read, rather than another unread email that sits in your recipient's junk box.
Letters
Letters are one of the oldest forms of communication that are still widely loved and used. There's something to be said for reading a hard copy letter – they're personal, better for record keeping and more private than email. Whether it's for business purposes or you're sending out a mass load of letters to friends and family, an established printer can help you get them out the door.
Booklets and catalogues
If you've got top quality, eye catching design and a superb quality print, booklets and catalogues that are posted to potential customers can be fantastic marketing tools that deliver real results. Whether you want to show off your new range of clothing, or send an information booklet about your charity, they are versatile and cost-effective. From glossy and matte print, to A4 and A5 styles, the possibilities are endless.
Wedding invitations
In a bid to keep costs down, many people are now choosing to design their own wedding stationery on free software like Canva. That's where a printer comes in – allowing you to print your designs on luxurious paper and get your invites out on time.
Birthday party invitations
As with wedding invitations, homemade birthday party invites are the 'in' thing, but when you've got loads to print it's much easier and potentially cheaper to give the job to a reputable printer.
A printed envelope
Personalised company envelopes can be a fantastic marketing tool to show off your business and make you stand out from the crowd. At Russell Printers we can print on a range of envelope sizes and shapes, working closely with you on your ideas and designs.
Postcards
Postcards have been in existence since the postal service was established, and there's a reason why they're still around. Custom printed postcards aren't just great ways of showing off your business, they can be remarkable pieces of design.
Greetings cards
Personalised greetings cards can be a great way to touch base with your clients at times like Christmas, or to say thank you to existing customers – so bear them in mind in your marketing plan.
At Russell Printers, we offer a wide range of high-quality printing services at a reasonable price. To find out more or to book in your job, call us today on: 0121 236 2784, or email: info@russellprinters.co.uk.
To find out more about World Post Day, you can visit this website: www.upu.int/en/the-upu/world-post-day/about-wpd.html.